After a very long time, we finally got the chance to buy a new TV (no wait, make that two!), thanks to Daddy's special request for a birthday gift. Since there was a promo for 2 Sony Bravia Internet LCD TVs (one is 40", the other is 22"), we took the opportunity to dive in!


Our TVs at home are struggling to make it through everyday service. We think it's about time to upgrade and give our old ones a break (although we're not installing the newbies just yet.)
So anyway, this post is not about television, but about my thoughts on my new
NYX Round Lipstick in Power.
Again, thanks to
Digital Traincase
for the wonderful merchandise and the smooth transaction.
I recently made a review on
Raisin
and you can prefer to it for my pro's and con's when it comes to NYX Round Lipsticks. It's pretty much the same, except this one is in super
editorial-esque
pink!!! It's sort of a cross between lavender and bubblegum pink.
Power
is something you can see Nicki Minaj or Rihanna wearing (get the idea?).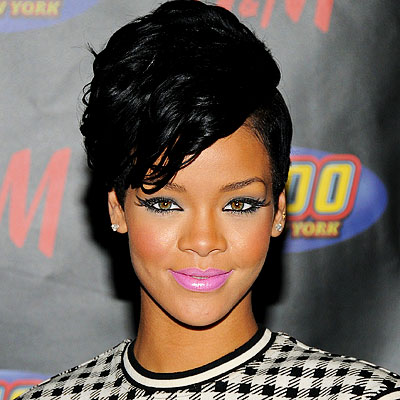 At first I was curious how a color like this would look like on my skin. I was so nervous that I'd look tacky. But all fear aside, I decided to jump in and give it a shot. In the end, I actually loved it! It looks super brave (hence the name) and edgy. It really makes me feel powerful when I wear it. I actually think it looks great on Filipina skin. I'm not
mestiza
or fair, but this really fared well with my
morena
complexion. It complements my skin tone so well and brings out a nice glow. I paired it with a bronze blush,
gold eyeshadow stick from Etude House
, my brow kit from
The Face Shop
, and I really loved the entire look! It's simple yet unexpected! Pictures of the look are on the lower portion of this post.
I love that this lipstick doesn't dry my lips out. This is probably one of the reasons why I don't really trust lipsticks that easy. I'm glad I found a formula that's creamy and just right for my lips. You should know too, that I forgot to take my trusty
Carmex
lip balm with me today, and I was only wearing this the entire day. No dry lips, even without lip balm! I like this shade a lot. I'm thinking of getting more shades from
Digital Traincase
after the Holy Week so I can bring them to Myanmar for work makeup. I really wish NYX had a store here in the Philippines!
What I got from Digital Traincase.
The shade on the bottom of the tube.
Swatches.
NYX Round Lipstick in Power
How it looks on.
Pardon the messy application, I just slapped it on my lips
as soon as I received the package!
Here are some of the shots I took of me wearing the lippie. It looks sheer, but it's really pigmented. Again, for reference as to what I like and dislike about NYX lipsticks, you can check out my previous post
HERE.
There's just no way to describe the shade. It's edgy! I'm not really a lipstick kind of girl. I mean, I'm not very adventurous when it comes to trying new shades, as you can tell from my late discovery of the wonders of red lipstick... But experimentation has really worked out for the best so far. I wonder how other shades would look on me? Want me to try specific NYX round lipsticks? Let me know. Or better yet, send me a tube so I can test it out for you. ;) Teehee!
Keep smiling!
Love,
SGT <3